TOP
Introduction

Welcome to Okayama Ceramics Center's Homepage!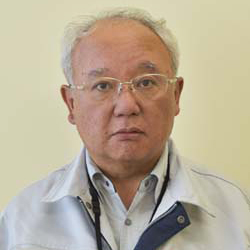 Director of OKAYAMA CERAMICS
RESEARCH FOUNDATION
Research Laboratory Hatsuo Taira
OKAYAMA CERAMICS CENTRE was born with the purpose to support the jumping up to tomorrow's new stage of prosperity for the refractorise and related enterprises of Okayama Prefecture. In OKAYAMA CERAMICS CENTRE, aiming for the 「World's Research Center」 of high temperature composite materials centered around refractorise, such projects of ceramics and refractorise as R & D under the co-operation of technology, the education of human resources, the infornation services and so on have been promoted.
History
| | |
| --- | --- |
| 1988.Jul. | Project of Okayama Ceramics Center Started. |
| 1989.Oct. | Installation of Okayama Ceramics Center Started. |
| 1990.Mar. | Okayama Ceramics Research Foundation Inaugurated. |
| 1990.Oct. | Okayama Ceramics Center Inaugurated. |
| 1991.Apr. | Local Industries Subsidy Law Enacted. 1993.Sep. Refractorise Activation Law Enacted. |
Buildings
Name
OKAYAMA CERAMICS CENTER
Address
1406-18 Nishikatakami, Bizen, Okayama 705-0021, JAPAN
Site
Ground space : 5,599.47 square meter
Building : structer
[Main building] steel reinforced concrete, 2-stories floor space
[Main building] 1,753.65 square meter
[Test building] 408 square meter
Management
OKAYAMA CERAMICS RESEARCH FOUNDATION
PHONE:81-869-64-0505  FAX:81-869-63-0227
TransPortation Guide
NOTE : If upper map has lost of ability to function normally, Click "View Larger Map" for going to Google MAPS site.
Ca.30 km from JR Okayama Station
45 min by JR Ako-Line, Get-Off at Nishi Katakami Station, Ca.8 min Walk
Ca.1 hour by car Ca.1 hour 20 min by Uno-bus for Hinase Sogo, Get-Off at Katatetsu Katakami and 2 min Walk
Ca.40 km from Okayama Air Port
Ca.1 hour 30 min by car (Ca.50 min via Sanyo-Express Way)
Ca.40 min by Chutetsu-bus for Okayama Station
From Wake IC in Sanyo-Express Way